Watermeadows
meadows on the Wey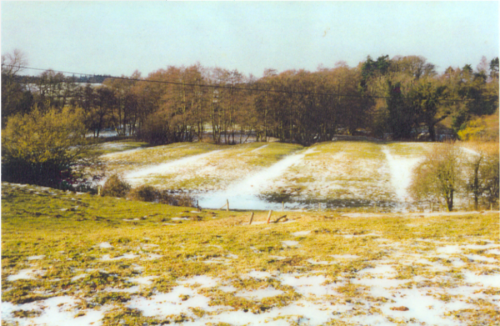 General view of a watermeadow (Mellow Farm): the remains of a winter snowfall lying in the collapsed drain channels clearly display the layout and form of the meadow.
Watermeadows have provided the major landscape and economic influence on the Southern Wey valley (and much of the tributaries as well) for the past three or four hundred years – that is, at least, until the first half of the 20th century, when most fell into disuse and many went out of any agricultural use.
The open meadow landscape of the past is giving way to scrub and woodland in many places: this loss of meadow-land enhances diversity of habitat but it is important that a significant proportion remains open grassland and – where possible – some semblance of previous irrigation practices are maintained.
Watermeadows are distinguished by their 'ridge-and-furrow' appearance – shaped by man – and the layouts of artificial channels and 'controls' that they contain (or contained) for the purposes of precisely controlled irrigation: the overall purpose being to produce two or more crops of hay each summer, and to provide early grazing for overwintered stock.
Although 'unfarmable' by modern methods, old watermeadows still have a key role to play in the ecology and landscape of the valley, and in the health of the river itself.

Mellow Farm : LIDAR image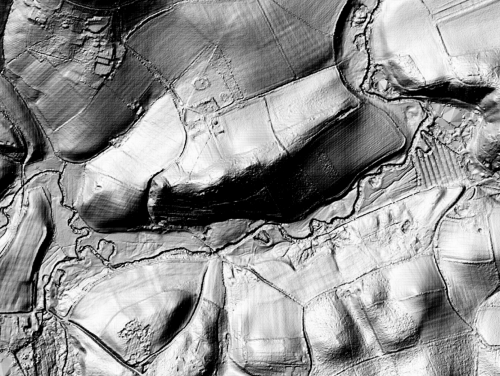 The stretch of river by Mellow Farm shows a number of features when viewed using LIDAR imaging (LIght Detection And Ranging using pulsed lasers). Oxbow forms and the distinctive ridged watermeadow are both seen in this image centred on Mellow Farm (the vertical scale is exaggerated to make the forms very distinct). Areas of lying water show as sheer areas with sharp angles, reflecting the light pulses.